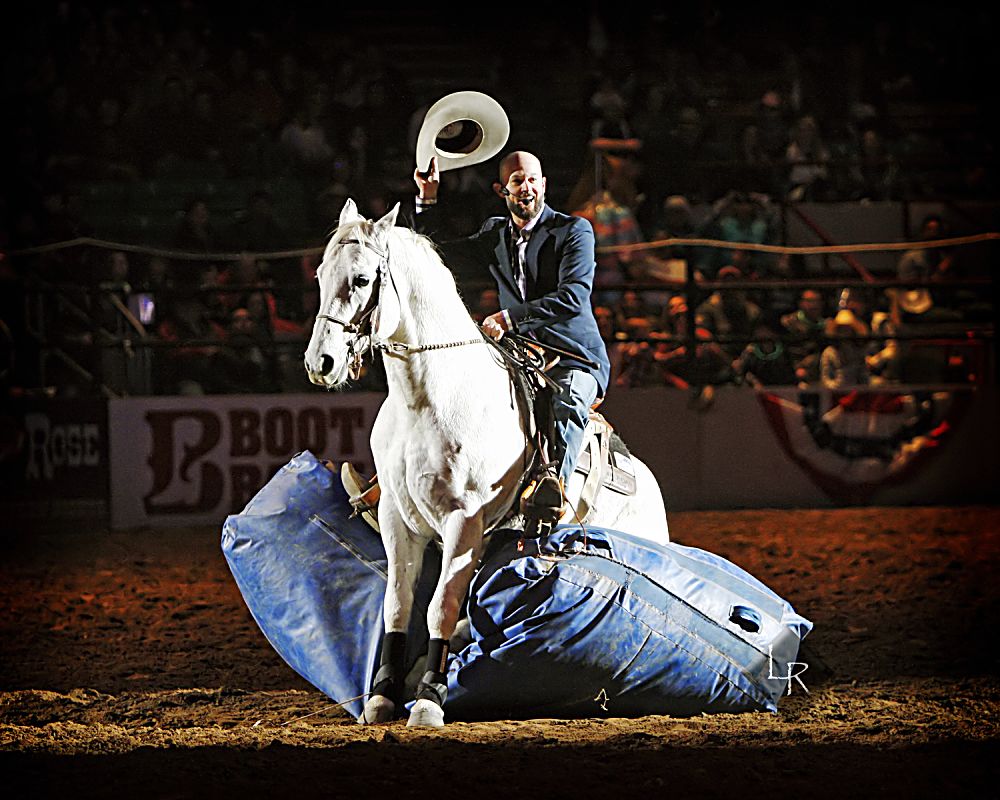 A conversation with world famous horseman, Dan James.
The Fence Post
By Lincoln Rogers
Dan James, world famous Australian horse trainer and equestrian performer/entertainer, has been horseback since he was 6 weeks old. Growing up in Queensland on a cattle station (known in the U.S. as a ranch), James went from working on horses to a varied equestrian background that included three-day eventing, show jumping, dressage and race horses.
After joining forces with Dan Steers to create Double Dan Horsemanship, James' flair for equine entertainment was noticed by industry professionals and connections were developed that led to Double Dan Horsemanship's first trip to the United States to perform as the opening act of the 2010 FEI World Equestrian Games in Lexington, Ky. It's been a whirlwind ride from that point, with James traveling the world to showcase their brand of natural horsemanship training, their specialty niche of Liberty horses, and winning one high-profile equestrian competition after another, as well as marrying and having a child. Lincoln Rogers sat down with James during 2019's National Western Stock Show to talk about his life and career with horses. (Note: Questions and answers have been edited for clarity and length.)
LR: What made you get into horses?
DJ: Growing up in Australia on a working cattle station, that opportunity with the horses was always there. I sat on a horse when I was 6 weeks of age, but never really, really got hooked until there was one particular pony that we found on the side of the road that mom and dad bought for a couple of hundred dollars called Tonto. From that point on, this is what it has been.
LR: What was your first break as far as leaving Australia to launch a horse career and making a home base in Kentucky?
DJ: I had run my own small equine business in Australia for a few years and got a little bit burned out. I ended up spending seven years in western Australia on a far north remote cattle station. During that time when I was there, I ended up with a horse by the name of Ari. He was the pinnacle point in where we are today. I started out doing some tricks and stuff and then we would have guests come to the station and I would do a little entertainment there. Really, the first big break, there was a big show down in Perth at one of the casinos and there were 14,000 people a night for three nights that we were there. And at that show, there were quite a few American acts that came across. You know … right time, right place, and how God works in amazing ways. Jump forward a few more years and they became some of my initial contacts when I came over here to the states.
LR: What has made you and Double Dan Horsemanship stand out in the equestrian world?
DJ: I think the thing that probably was our niche and set us apart and probably has been the key point has been our Liberty horses. That is what I truly believe is the real key component for us. We have been very fortunate that our particular Liberty program, that we adopted from Heath Harris and have continued to teach, has certainly been ahead of the game in a lot of areas as far as mainstream stuff goes.
LR: As a humble guy, how challenging is it to create the public relations necessary to make a living at what you do?
DJ: I think the most important thing is that our work or the horses speak for themselves. I have always felt that the horses and what they could do, on the days that it all came together, that the horses spoke for us. I have never felt that we have to go out there and blow our own trumpet to say hey, we are this, that, or the other. I am not comfortable with that. That is not who we are. And I believe that the reflection of our work is what sets that standard.
LR: Is there a goal you have for what you do?
DJ: Dan Steers, my partner in the business, and I, we always believed that we wanted to be able to reach the person that got drug along to come see an event. Because the person that is already there, that is excited about it, they are already on board. It is the person they dragged along, whether it is their husband or their wife, if we can reach them and introduce them to horses and see that they have a good time and put a smile on their face, that is when we are doing our job.
LR: What do you think of the crowds at the NWSS?
DJ: One of the most amazing things to me, and I was talking about this with one of the other Australians today, for us it is mind boggling that you can have two rodeos a day in the Coliseum, plus a Wild West Show in the Events Center, all happening at the same time. That is insane. To think that number of people can come along and attend this and see such a variety of things going on. One of the crowds that I personally love the most is the freestyle reining crowd. They get it, they are educated, they know what they are looking at, and they appreciate good horsemanship and good reining.
LR: What is your favorite part of what you do?
DJ: Honestly, the part that is still the best to me is when I am at home, I am working my own horses, I get to work on something new, and it starts to come together. That part has never got old and is still, for me, the most exciting aspect of it.
LR: You often mention God after you perform, how integral is your faith to your connection and work with horses?
DJ: It is very deep. I feel that probably a lot of the big lessons — people might say it is the Holy Spirit or a gut feeling — I feel that at a lot of those pinnacle points, God has really spoken to me through those horses. I think that at the end of the day the most important thing to us is that God or Jesus has allowed me to live this life that I get to share, and to share the good news with others. ❖