Dan James Will Defend World Championship Freestyle Reining Title
Equisearch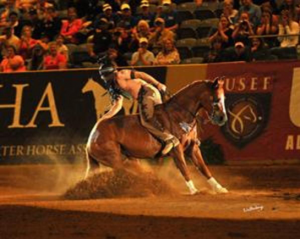 January 13, 2015–One of the mostly widely viewed equestrian performances of the 2014 competition year, clinician and entertainer Dan James of Double Dan Horsemanship stole the attention of the horse community with his powerful and imaginative program at the 2014 World Championship Freestyle Reining, taking home a World Champion title, and the People's Choice Award. Since then, more than 300,000 people have watched the video of his incredible performance online at USEFNetwork.com and on the USEF Network YouTube page.
Dan announced today that he will return to the Kentucky Reining Cup to defend his World Champion Freestyle Reiner title with a new exclusive program. Taking the task seriously, James knows that the bar has been raised and the field of high-quality Freestyle Reining competitors are out to take the title away from him in 2015.
"Just as you would suspect, there are a lot of really great performers at the World Championship level for Freestyle Reining, James said. These competitors are excellent horsemen and horsewomen and are specialists in the freestyle division of the sport of Reining. It will be a challenge to defend the title against such a wide pool of talent, but I look forward to the opportunity."
Additionally, the event has established an Insider Access Ticket for the super fans of Freestyle Reining and of Dan himself. Insider Access Tickets include:
– Gold Buckle seat at the World Championship Freestyle Reining. Gold Buckle seats are a section of premier seats in the venue that offer the same view as the judges and on a level that is closest to the action. Gold Buckle seats are still general admission seating within the designated section and are far and away the most desired seats at the event.
– Invitation to attend an exclusive and intimate meet-and-greet session with Dan James, 2014 World Champion Freestyle Reiner as he prepares to defend his World Championship title later in the evening. The event will include a beverage at the bar, photo backdrop for any "selfies" with Dan who will be signing autographs and much more. The event will start approximately one hour prior to the start of the competition and attendees will be directed to the meet-and-greet by way of a special VIP access elevator.
– Dan James Insider Access Ticket holders will be entered for a prize drawing, with the following prizes:
– First Prize: In-person participation at a future Dan James clinic, using your, or one of the Double Dan Horsemanship horses for you and one additional guest.
– Second Prize: Double Dan Horsemanship DVD Complete Set
– Third Prize: Double Dan Horsemanship Logo Merchandise/Gear
– Dan James Insider Access Ticket holders are granted a special discount on gear and merchandise offered in the Double Dan Horsemanship trade show booth at the Kentucky Reining Cup. The full-scale western trade show is located on the concourse immediately adjacent to the event and is very easy to find. Just present your special Dan James Insider Access Ticket to receive your discount.http://cdnapi.kaltura.com/index.php/extwidget/preview/partner_id/1037181/uiconf_id/25174951/entry_id/0_rl3rjisl/embed/dynamic