Dan James won the 2014 Freestyle Reining World Championship!
Double Dan Horsemanship Australia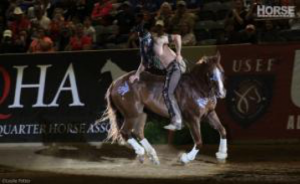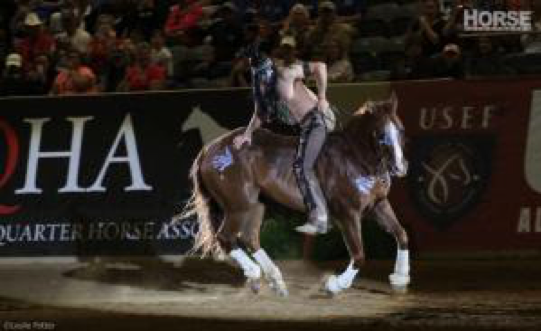 With a performance inspired by Johnny Depp's character Tonto from the Lone Ranger, James performed a routine bareback with Smart Little Elan that included crowed raising spins, stops and lead changes with half of the routine performed riding backwards. Near the end of the routine James dismounted and sent the chestnut into a spin at liberty that grabbed the attention of the entire horse world.
James admits that learning to perform riding backwards was no easy task. "I spent more time picking myself off the ground than riding," said James. "They say that the key to horsemanship is keeping the horse between you and the earth, but I didn't do much of that in the beginning."
James has a long list of people he wishes to thank for their help in achieving this success. "Dan steers for believing in Rio (Smart Little Elan), my mum for teaching me to ride bareback, Heath Harris for teaching me to understand a liberty horse, Craig Johnson for helping me find the reining horse inside Rio, Yvonne from KYB Dressage for helping me fine tune my flying lead changes, the Double Dan Horsemanship team for their support and of course amazing horses that continue to give so much more then I could ever have imagined."
Drake Johnson, with Sonic Chic Dream, and Rocky Dare, with Squeaky Clean Genes, tied with a score of 226 for the silver medal.
You can see James' winning performance online at http://youtu.be/oHhKo0m312o
The World Championship Freestyle Reining at the Kentucky Reining Cup was held in the Alltech Arena at the Kentucky Horse Park in Lexington, KY April 26, 2014.