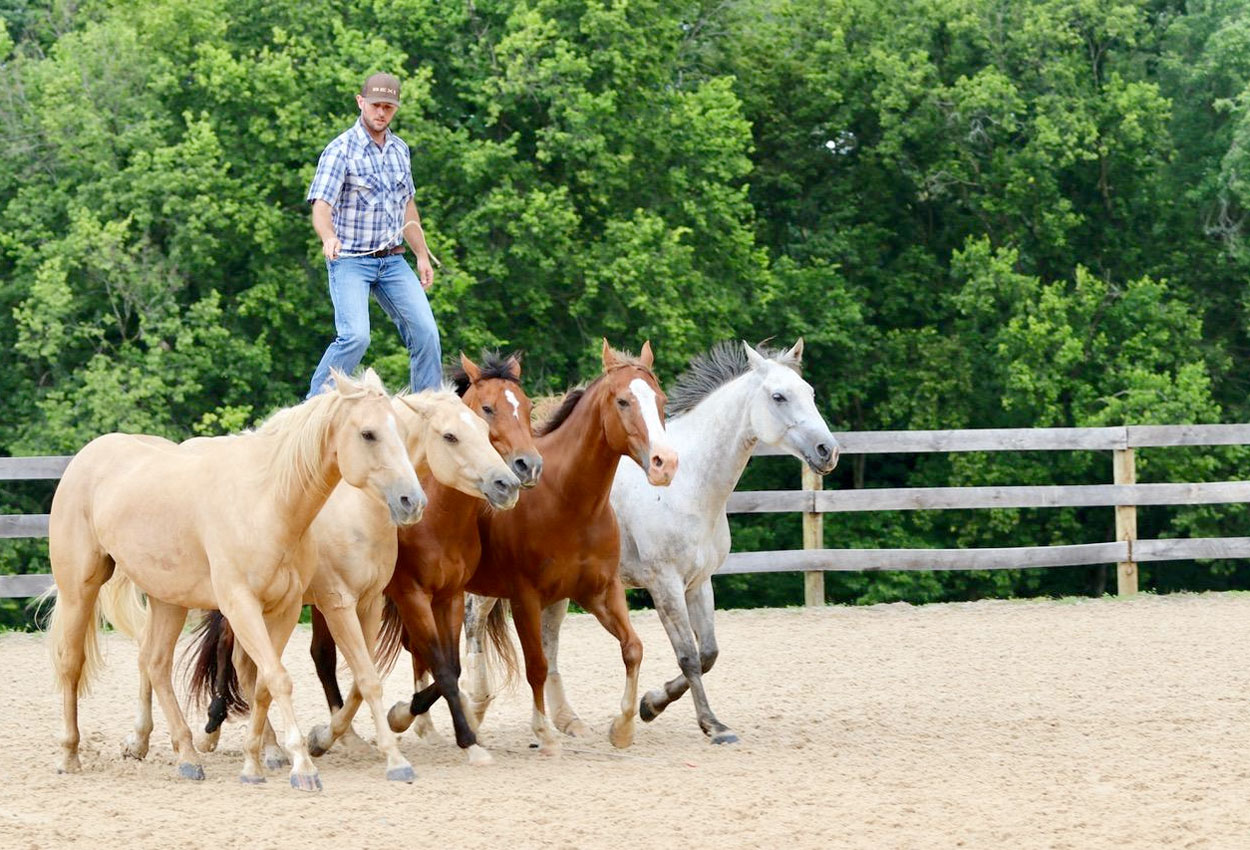 Equifest features clinicians, competitions, vendors
CJ Online
By 
Now in its 22nd year — only its fourth in Topeka — this year's Equifest of Kansas event, scheduled for Feb. 22-24, will feature world-class clinicians, a variety of competitions and a trade show focusing on everything equine, as well as home decor and art.
In addition to bringing together horse enthusiasts of all ages and disciplines, Equifest serves as the main fundraiser for the Kansas Horse Council, enabling the organization to carry out its mission of supporting and representing the equine industry in the state.
Justine Staten, executive director of the Kansas Horse Council, answered questions about the popular event.
Since Equifest is now in its 22nd year, how has it changed over the years?
From a programming perspective, we have implemented a variety of competitions that serve to display various disciplines in the equine industry. Breeds on display vary from year to year to provide our audience exposure to many different breed types, both popular and rare. Our educational workshops will typically include something timely in legislative updates or health-related issues, as well as what is popular, from trail-riding experiences to sports psychology, to horse health and nutrition information or fundamentals of riding instructions.
What is the main purpose of Equifest?
This event serves as the primary fundraiser of Kansas Horse Council and the KHC Foundation, both nonprofit organizations. One branch serves as education and public policy and the other branch serves as education and scholarship awarding. Our mission is to educate attendees about the equine industry in an entertaining way. Our primary goal is to promote all breeds and all disciplines and to educate folks on what activities and opportunities are available with horses. Our foundation goal is to provide scholarships for secondary education to equestrian members.
Who are some of the clinicians for this year, and what are their topics?
We will have Dan James, our headliner, a natural horsemanship expert who will teach fundamental skills on getting the correct lead and creating the desire to spin. Dan is a remarkably accomplished horseman who will simplify some stumbling blocks we may experience in our show ring goals. On Sunday he will teach us some of his tips and tricks for marker training for those who are interested in beginning natural horse training.
We will also have Mustang Maddy wowing us with her zebras and mustangs. She will introduce them and reflect on her training time spent with them. Maddy is a liberty trainer and she will go through steps of communication with equines, as well as how to achieve bridleless riding goals, and also demonstrate her skills of liberty with multiple horses.
We also will meet Tami Purcell Burklund, the winningest female jockey in Quarter Horse Racing and two-time NFR Barrel Racing champion. She will share some of her life experiences and provide tips and tricks she has learned from making it to the top of both disciplines. She invites questions from the audience that she can provide live demo answers to in the arena.
Last but not least, we will have Kip Rosenthal, an accomplished jumper horsewoman who has a background in education and a Ph.D. in sports psychology. She will take riders through steps to achieve confidence and provide the audience some great lessons in managing mind over matter.
Will there be competitions this year?
Yes. On Friday and Saturday nights, we have the Tim Trabon Memorial Ranch Rodeo, where 14 teams of real working cowboys show off their skills at ranch work simulated events. This year we also have the R Bar B Top Horse Challenge back, which includes a timed event, cattle sorting, cowboy jumping, an obstacles challenge and a freestyle final. We also have an Equestrian Drill Team competition. Watch three teams compete in a precision pattern — same for all, a patriotic pattern of their own making and the freestyle final. Plus, spectators will enjoy the Carriage and Driving Society of Greater KC's Equifest Driving Derby. Watch as 10 competitors vie for fastest time on the course driving around obstacles in a given pattern. They sport colorful attire and drive anything from miniature horses and carts to one of the largest Percherons in the Midwest and a larger rig.
Also check out the stall barn as the breed showcase competes for best-dressed hospitality stalls. And let's not forget one of the largest Kansas Farrier Association competitions around — in the stall barn, Friday morning and Saturday morning. Benched seating will be available as they forge, build draft shoes, and then live shoe some draft horses. You can come in and warm yourselves by the heat felt from their fires.
Are there any activities that will appeal to youngsters?
Absolutely. Of course, kids 12 and under are free, so we definitely keep something for our youngsters. We have horses to be viewed and petted in the stall barn, including Duni the Painting Horse, plus up in the Mall of Equifest (otherwise known as Maner Conference Center) we have the Kansas Farm Bureau Kids Corral where they can meet rodeo queens and princesses, rope dummies with the K-State Rodeo Club and ride a stick horse over pony jumps. Let's not forget about the face painting available there, and we have a local kids' book author, Brandy Von Holton, who will be reading horsey stories periodically each day. Also, in the Ponderosa Room (Sunflower Ball Room of Maner) you can bring your youngsters to the Leaping Llamas Painting Station, where they can paint a Breyer Model Stablemate to take home.
Is there anything that will appeal to non-horse enthusiasts?
Absolutely. Do you love art? Do you love home decor, jewelry and clothing? Do you love music and cowboy poetry? Then we've got a place for you. We have hundreds of vendors carrying something for everyone, plus in the Foundation Silent Auction, with gift cards and experience packages to be looked over and bid on. Who knows what kind of a great deal you can leave with? And in the Ponderosa Room we have cowboy poetry and live music going daily, plus beautiful artwork on display and for sale with the proceeds benefiting college students.
How many vendors are expected? What are some of their offerings?
I expect 140 to 150. You can find anything from fun and funky metal art and other home decor items; one-of-a-kind artwork; cowhides; clothing; jewelry; jeans; boots; outerwear for the cold weather; horse tack, feed and supplements; grooming supplies; hats, purses and other accessories; home and barn building ideas and equipment; trailers and trailer accessories to tempt you. Plus you'll get information from service providers and state parks, and learn about what collegiate equine experiences are available, find out where to go for fun with your horse and ways you can get involved in outdoor activities without a horse.
Based on previous Equifests, what kind of attendance are you expecting? How far away do some of the attendees come from?
We typically see 12,000 to 15,000 attendees, and of course our expectation is on the high side of that figure. We have interest generated from all the surrounding states plus Illinois, Minnesota, Washington, D.C., Texas, California, and in the past we have even had Hawaii present. It is interesting to learn from folks that they heard about this from a friend or found it on social media, etc.
What buildings will the event occur in?
We consume the entire Kansas Expocentre campus to include Domer Arena and the Stall Barn, Landon Arena, Exhibition Hall and Atrium, and we take over the Capitol Plaza Hotel, up the corridor from Expo, where we utilize all the rooms in the Maner Conference Center for vendors, the Foundation Silent Auction, the Kids Corral and workshop lecture rooms, plus live entertainment and the Foundation Art Sale.
What does it cost to attend this year's Equifest?
Kids 12 and under are free. Daily wristband price is $18 in advance and $25 the week of event, then the three-day wristband price is $40 in advance and $45 the week of event. You can walk up to the Kansas Expocentre box office or get your wristbands ordered online at www.equifestofks.com.
Carolyn Kaberline is a freelance writer from Topeka. She can be reached at carolyn.kaberline@gmail.com.